William Garrison, LMT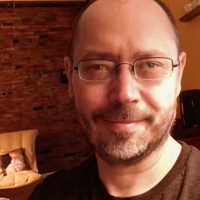 William is the owner of Jolly Buddha Massage, and a graduate of Finger Lakes School of Massage in Ithaca. He has been a licensed massage therapist (LMT) in New York since 2015.
Besides private practice at Jolly Buddha Massage, William is also available for chair massage at the Massage Station, located at GreenStar's West End store.
Style
William's approach to massage is to use the client's nervous system, muscle tissues, & senses to help the client find the states of relaxation or pain relief they want. He believes that massage is as much about coaxing the nervous system to break old patterns of response as it is about reducing muscle tension. By introducing new sensations to the tight or painful areas of the body, with gentle compassion but also measured & deliberate touch, his massage works to help your brain reinterpret sensory signals from your nervous system, moving away from a learned pain response toward a new soft & relaxed resting state.
His style is grounded in Swedish massage, which uses long gliding strokes, kneading, wringing, pushing & pulling on the skin and underlying muscle tissues to bring a person into a state of relaxation.
When working with issues of chronic pain, he incorporates techniques from the practice of neuromuscular and myofascial therapy. From very slow, deliberate gliding strokes along a muscle with deeper pressure to gentle stretching of skin & soft tissue sustained over several minutes, these techniques work to help change how your brain interprets pain signals, either softening the pain experience or helping it stop altogether.
Training
At the Finger Lakes School of Massage, William trained in Swedish massage, Shiatsu, connective tissue therapy, neuromuscular therapy, anatomy, physiology, energy palpation, and applications of massage for pregnancy and elder care.
Since graduation, he has continued training with a focus on pain relief.
Deep Tissue Massage of the Neck and Jaw, April 2015 with Tammi Sweet, LMT.
Advanced Certification in Prenatal Massage, October 2015 with Danielle Guillet, LMT.
Foundations in Myofascial Release Seminar: The Upper Body, August 2016 with Walt Fritz, PT.
Advanced Techniques for the Head and Neck, April 2017 with Eric Stephenson, LMT.
Freeing the Neck: A 3D Approach, April 2017 with Dr. George Russell, DC.
Spinning the Hip, April 2017 with Dr. George Russell, DC.
Techniques to Work the Psoas, April 2017 with Dr. Joe Muscolino, DC.